Overview
The need to see a step-change in the way we travel, from private vehicle to cycling, walking and public transport, forms a fundamental element of both national, regional and local transport strategy. Investment in safe and efficient active travel infrastructure (walking and cycling) not only improves local air quality and reduces our carbon footprint, it also supports people in making healthier and cheaper decisions for how they choose to travel.
The A56 route is a key component of this agenda for Trafford and we want to hear your views on what works best.
Below is a questionnaire, which we invite you to complete to help your council make an informed decision on the future of the A56 and A5145 Edge Lane.
Background
During the early stages of the Covid-19 pandemic in 2020 and as part of the Emergency Active Travel Funding, Trafford Council installed temporary cycle lanes on the A56 and Edge Lane. This was to facilitate non-motorised transport choices for shorter journeys, such as cycling, walking and mobility scooters.
As Covid-19 restrictions have reduced, the Council is seeking to remove the temporary cycle lanes and consult the public on a permanent solution for the route that best meets the needs and expectations of a diverse local population, both now and for future generations.
Options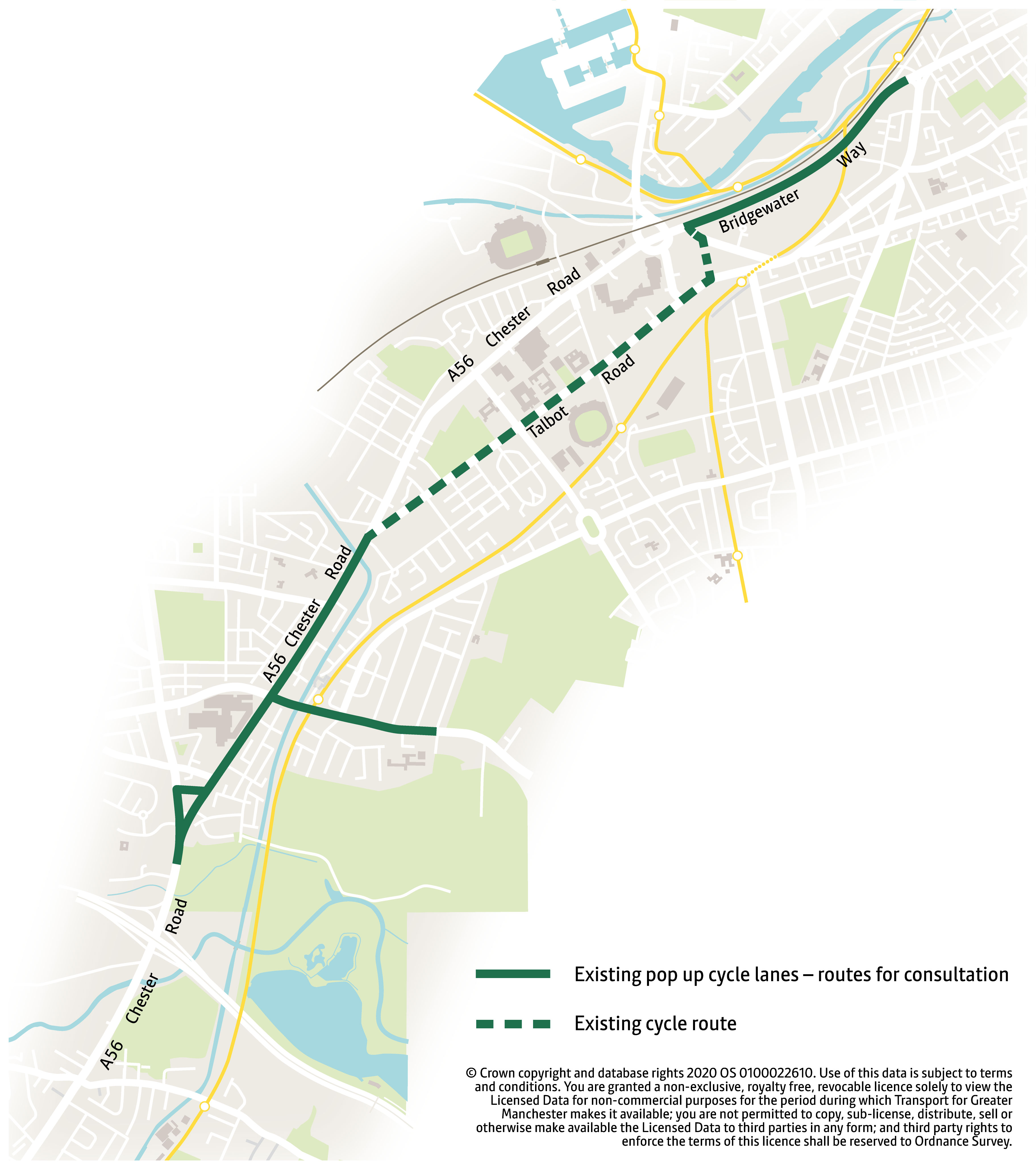 In short, there are currently 3 broad options:
The creation of a permanent lane for buses and bicycles only, to replace the temporary cycle lane
The creation of a permanent lane for bicycles only, to replace the temporary cycle lane
To remove the temporary cycle lane and revert to the pre-Covid 19 structure with all lanes open for motorists
The bus/cycle lane means cyclists will be sharing the lane with buses and will have a painted lane of their own. The cycle only lane will be cordoned off for cyclists. The last option means the lanes will be removed.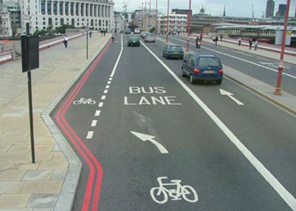 The creation of a permanent lane for buses and bicycles deliver a lane with a width of 4.5m, which would comprise of a minimum 1.5m for cycling and 3.0 for buses. Where there are isolated sections where 4.5m cannot be achieve, the lane would be shared by buses and for people to cycle.

The creation of a permanent lane for bicycles deliver a protected lane with a width of 3.0-3.5m.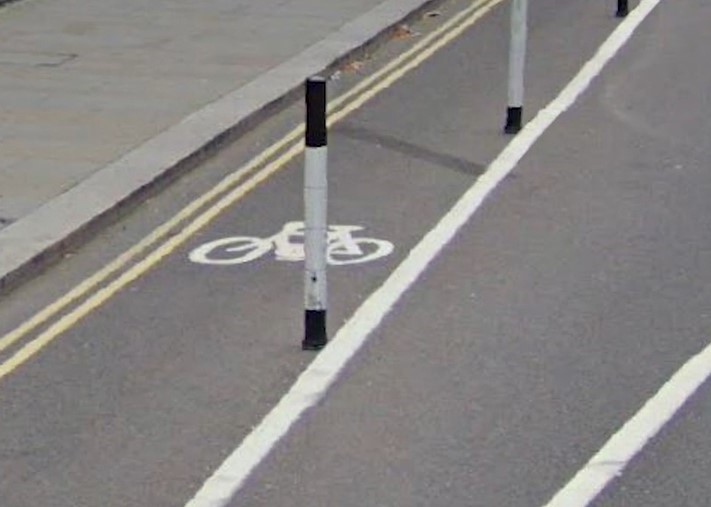 Safety
We want all users on the A56 to travel safely. The public showed immense support for the pop-up cycle lanes and many people have expressed that the provision of new lanes has provided them with an opportunity to take up cycling again and venture out with families, feeling safe to use the A56.
A clear vision
Nationally, the Department for Transport's Gear Change document sets out a clear vision for a transformation of our transport system, with half of all journeys in towns and cities expected to be cycled or walked by 2030. To enable this, the document makes clear that cyclists must be separated from both volume traffic (at both junctions and stretches of road) and pedestrians to ensure they can travel in a safe and secure way. The Greater Manchester Transport Strategy 2040 also sets out an ambitious new approach to planning for the region's transport system, which prioritises sustainable transport modes. The long-term vision is for the 'right mix' of transport modes on the network, requiring 50% of trips to be made by sustainable modes, with no net increase in motor vehicle traffic by 2040. This will only be possible if significant improvements are made to the active travel and public transport network, enabling people to make more sustainable choices.
The A56 is identified in the Greater Manchester Strategy 2040 Five Year Transport Delivery Plan 2021 - 2026, as an investment priority for both active travel improvements and bus priority measures. Identification of the route reflects its strategic importance, and it is a substantial opportunity to encourage active travel on a route which is currently heavily car dominated.
Improving air quality
Whilst being a key access road for vehicle traffic, the route also needs to provide reliable public transport links and connect to the GM wide Bee Network in terms of cycling and walking links.
Achieving an increased mode share for active travel and public transport will also help to deliver improved air quality, through the accompanying reduction in emissions from petrol and diesel vehicles. The Greater Manchester Clean Air Plan seeks to bring nitrogen dioxide (NO2) levels on local roads within legal limits by 2024 and data on the Clean Air Greater Manchester website indicates that significant stretches of the A56 within Trafford are at risk of exceeding legal nitrogen dioxide limits. This includes the A56 from Davyhulme Road East to White City Junction and A56 both north and south of the junction with the A5145 (Edge Lane).
Air quality on the A56 is averaging at 21.62µg/m3 in 2021, compared to 30.12µg/m3 in 2019.
A sustainable future
An overarching framework is being developed for the A56 which seeks to establish a sustainable future for the route, this will take into account competing transport demands and anticipated developments in the area. Development proposals are being prepared for Stretford Town Centre via the Stretford Masterplan / Area Action Plan and the Future High Streets funding. The A56 passes through the centre of this area and therefore improved access and movement will be critical to the success of these proposals and to reduce the dominance of motor vehicles in Stretford.
Have your say
In conclusion, the A56 and A5145 Edge Lane is a key route within Trafford for all road users. We want to hear your views so together we can make the best decision in creating a safe, sustainable route that meets the needs of local population now and into the future. We invite you to read the documentation on the proposals and complete the questionnaire.